Nothing to Lose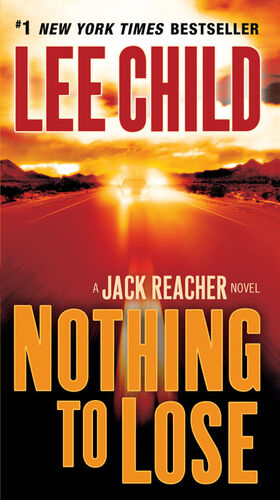 ---
---
---
Original release
United States:
June 2008
United Kingdom:
March 24, 2008
---
---
---
---
Nothing to Lose is the twelfth book in the Jack Reacher series written by Lee Child. It was published in the UK by Bantam Press in March 2008. The novel was published in the US by Delacorte in June 2008. It is written in the third person.
Description
Edit
Two small towns in the middle of nowhere: Hope and Despair. Between them, nothing but twelve miles of empty road. Jack Reacher can't find a ride, so he walks. All he wants is a cup of coffee. What he gets are four hostile locals, a vagrancy charge, and an order to move on. They're picking on the wrong guy.
Reacher is a hard man. No job, no address, no baggage. Nothing at all, except hardheaded curiosity. What are the secrets that Despair seems so desperate to hide?
With just one ally—a mysterious woman cop from Hope—and many enemies, Reacher goes up against a whole town, hunting the rich man at its core, cracking open his terrifying agenda, asking the question: Who has the edge—a man with everything to gain, or a man with nothing to lose?
Appearances
Edit
Characters
Locations
Sentient species