The Affair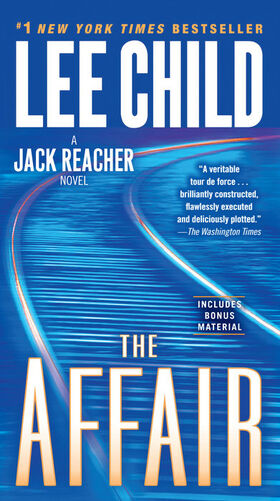 ---
---
---
Original release
United States:
September 27, 2011
United Kingdom:
September 29, 2011
---
---
---
---
The Affair is the sixteenth book in the Jack Reacher series written by Lee Child but is a prequel set chronologically before most of them. It was published on September 29, 2011 in the United Kingdom and was published on September 27, 2011 in the USA. The Affair is a prequel set six months before Child's first novel, Killing Floor and setting out the explosive circumstances under which Reacher's career in the United States Army was terminated.
Description
Edit
Everything starts somewhere. For elite military cop Jack Reacher, that somewhere was Carter Crossing, Mississippi, way back in 1997.
A lonely railroad track. A crime scene. A cover-up. A young woman is dead, and solid evidence points to a soldier at a nearby military base. But that soldier has powerful friends in Washington.
Reacher is ordered undercover to find out everything he can and then to vanish. But when he gets to Carter Crossing, Reacher meets local sheriff Elizabeth Deveraux, who has a thirst for justice and an appetite for secrets. Uncertain they can trust each other, they reluctantly join forces. Finding unexpected layers to the case, Reacher works to uncover the truth, while others try to bury it forever. The conspiracy threatens to shatter his faith in his mission—and turn him into a man to be feared.
Appearances
Edit
Characters
Locations
Sentient species